Working out how to get your content seen, heard and loved (or when, how and what to post online) is every content marketer's challenge. Use the advice in this blog to help find a formula that works and watch your brand engagement and brand love grow.
1. Getting your content seen
Making sure your content gets seen by the people you want to see it is fundamental to any successful content marketing strategy. After all, there's no point slogging away producing brilliant content if nobody's looking. That's just like performing Dance of the Sugar Plum Fairy in the desert. Impressive, but pointless.
We live in an age of information overload. Every day, 500 million tweets are sent, an estimated 2+million blog posts are published and Facebook boasts 968 million daily active users.
Just take a look at this incredible infographic from Domo to see what we mean. To drive the point home even further, these mind-blowing statistics were published in 2014 – just think what the data looks like now.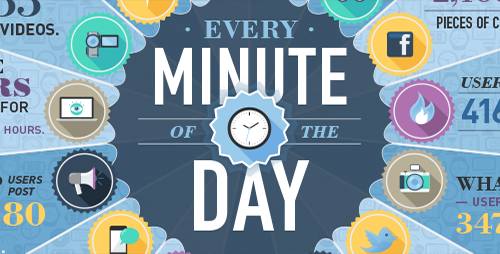 The challenge is clear – how do you get your content to stand out from the crowd and be seen by the people who matter?
There's no one-size-fits-all solution, but it's safe to say that when you post and how often you post both play a role.
Getting seen: When is the best time to post content?
A quick Google search for 'when is the best time to post on social media' pulls up thousands of results. 'About 774,000,000' if you're counting. They can't all be right – can they? We took a closer look.
Quick Sprout's handy 'best times to post on social media' infographic gives an overview of the dominant social media platforms, suggesting that business to business marketers can expect a 14 percent uplift by tweeting on weekdays, whereas business to consumer brands see a 17 percent increase in engagement on weekends. Hardly surprising that these stats correlate with when people are most likely to be thinking about business and leisure activities. A 'common sense' theme runs throughout the findings, with LinkedIn engagement said to peak weekdays during business hours.
You'll find the Quick Sprout infographic at the end of this post.
BUT, as with most research, contrary views are relatively easy to find, and whilst Quick Sprout suggests Thursdays and Fridays are best days for Facebook engagement, Fast Company suggests that the peak time for Facebook posts is 3pm on Wednesdays.
What these stats won't tell you is how and when your own audience accesses content. Do they pick it up on mobile at lunch time, over coffee breaks, when commuting, or when back at their desks after a lengthy meeting? Do they look at Twitter or Facebook first thing in the morning – before they've even rolled out of bed, or do they check in just before the working day starts? Does their employment situation mean they're unable to access content throughout the day, or are phones and screens tools of the trade?
Rave recommends
Give your content a head-start by posting when people are online and looking for inspiration. Use the vast and varied data on 'best times to post', but make sure to use it as a starting point for your own research. Taking time to understand your own audience's social media behaviour will help you feed your story into their newsfeed or timeline exactly when they're looking.
Getting seen: How often should you post content? 
Post too often and you're in danger of gaining a reputation of being a blogging bore or social media spammer. Post too infrequently and your blogs and social profiles run the risk of looking dormant and unloved.
Striking a careful balance is somewhat of an art, especially when the research available is vast and varied. It depends on the platform, as much as your audience.
Take Hubspot's benchmark data post which looked at how often companies should blog:
"We found that the more blog posts companies published per month, the more traffic they saw on their website. Companies that published 16+ blog posts per month got almost 3.5X more traffic than companies that published between 0 – 4 monthly posts."
And compare with research from Coschedule which suggests publishing more content won't necessarily increase blog traffic. In their research, as posts increased, social shares dropped off:
"We gave our audience (you guys) so much content to share that you had to pick and choose what was worthy enough for you to share. Even if we published 3 awesome posts a week, you needed a little diversity in your social shares—not all from one source."
Locowise also suggests that less is often more when it comes to engagement through Facebook posts:
"Pages that posted once a week or fewer reached on average 15% of their page likes per post. Pages that posted two to four times a week reached almost 10% of their audience, while pages that posted once a day reached 8.42%."
Rave recommends
Be stats savvy – do your research (there's plenty of data out there) and formulate a framework for your brand and your audience, but keep an eye on your engagement and don't be afraid to tweak the plan to suit your needs.
Mix up your posting frequencies and posting times and monitor where you notice the best levels of engagement. After all, nothing can beat your own experience for gauging your audience's behaviour and preferences.
Usually post at 5pm? Try a post at 4.56 or 5.04 instead and give your content chance to get onto timelines ahead of, or after the flurry of competitor automated tweets set for 5pm
2. Getting your content seen
Cooooeeeee. Is anyone there?
Nailing 'when to post and how often to post' is important, but it's of little or no consequence if nobody actually reads beyond the headline.
So, how do you get busy people to pay attention and click through to your content? A great headline, relevant content and striking imagery are the basic ingredients for click-friendly posts.
A great headline sells your story. It helps convince people that your content is worth reading and helps persuade people with limited free time to choose your post over a competitor's. It represents your content in search listings and impacts on search rankings, so you're doing your brand and your blogging efforts a disservice if you don't spend time getting it right.
Most importantly, your headline makes a promise to the reader about the nature of the content.
Do. Not. Disappoint.
Click-bait headlines or headlines that don't truly represent the content are ill-advised. There's no point enticing people to click through if they jump ship as soon as they realise you've lured them in under false pretences. And it'll do your overall brand-love ratings no favours either.
By all means use headlines that are attention-grabbing, fun, intriguing, punchy and witty, but accuracy should always be a given.
Aside from that, you might want to optimise your headline length for clickability and shareability (under 65 characters for search listings and under 117 for Twitter shares with a url link), and make use of advice (there's plenty out there) on click-friendly words to use / words not to use.
Posting relevant content means building a content schedule with an awareness not only of your audience profile and the content they'll want to read and share, but of the major events and celebrations that your business can legitimately post about (cynical crowbar tactics are a big no-no).
Anticipating common search questions to help provide answers with your content gives your brand opportunity to be part of topical conversations, as well as giving you a fighting chance of being found through search.
A good content schedule should also be flexible enough to allow brands to comment on current trends. Being able to respond quickly and appropriately to industry news and wider events helps brands build a reputation of authority and credibility, and, importantly, to build a profile of being knowledgeable and 'of the moment'.
Using striking imagery as part of the headline can significantly increase propensity for users to click through and retweet. Stats reported by Hubspot suggest that tweets with images receive 18% more clicks, 89% more favourites and 150% more retweets.
Rave recommends
Give your post some punch with an attention-grabbing (yet accurate) headline that's tweetable and shareable, content written with your audience in mind and imagery that makes people look twice.
3. Getting loved
Creating and sharing content your audience will love is part of the 'building brand love' jigsaw. Wooing your audience with posts they'll want to share should be treated with respect and care.
Dishing out any old content simply won't work, even if you do so at optimum times of the week, using the most brilliant headlines and beautiful imagery.
Our blog on how inbound marketing can build your brand and win customers shows how taking the time to really understand what interests and inspires your audience, producing and sharing informative, entertaining and innovative content can help you build brand credibility, whilst demonstrating a shared understanding of your audience's issues and experiences can help people love your brand.
Get your content right and watch your brand engagement and brand love grow.
The Rave way
Rave has been delivering award-winning, creative campaigns and marketing support to high profile brands since 2000, and whilst every client is different and every campaign unique, our approach has always been, and always will be, consistently tailor-made.
When it comes to developing an effective and successful content marketing strategy we'll work with you to identify your audience interests, preferences and behaviour, tailoring post content, timings and frequency in line with industry stats and best practice, served with a healthy dose of experienced common sense.
Discover more about Rave's services and experience.
Want more?
Make sure you're the first to hear from Rave by signing up to our blog for regular marketing, communications, PR and social insight, tips and advice.
Want more, and want it now?
Can't wait for our next post? You might find these previous blogs worth a read.
This blog post was written in conjunction with Jo Quint.  Click here for Jo's website